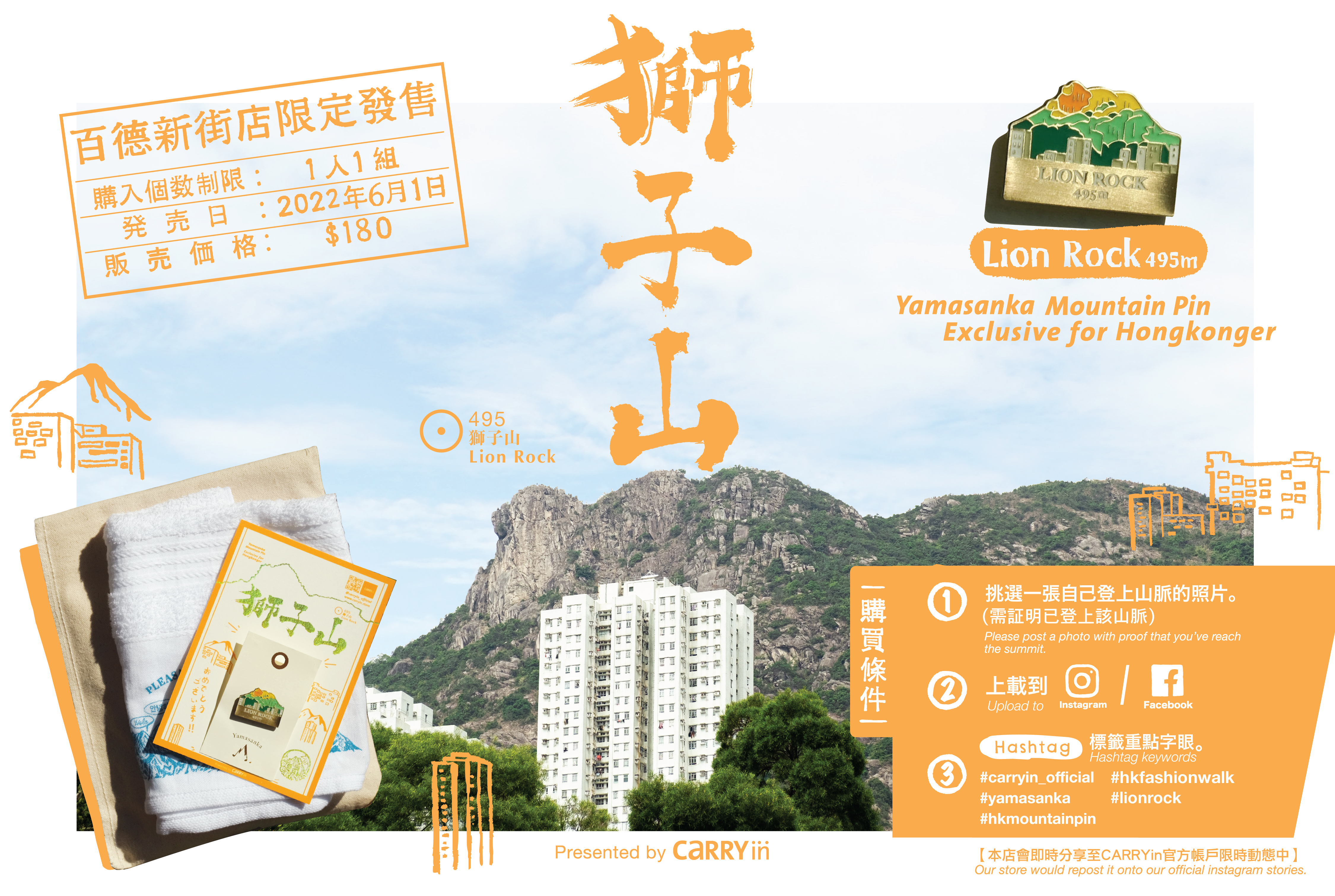 希望延續品牌精神,我們與Yamasanka 攜手合作為香港山脈設計限定襟章,參加者必須登山後才能購買。
藉此推廣登山文化並鼓勵大家接近大自然。
限定襟章購買條件如下:挑選一張自己登上該山脈的照片。
上載到 Instagram / Facebook 並 Hashtag
#carryin_official #yamasanka #hkfashionwalk #hkmountainpin #lionrock
購買時本店會即時分享至CARRYin官方帳戶限時動態中。
CARRYin 銅鑼灣百德新街店限定 600組獅子山襟章限量現場發售
購入制限:1 人 1 組
発売日:6月1日 (三)

Yamasanka is a Japanese outdoor brand that creates cute and moutain-related pin badges where shapes of different mountain ranges are put into the design of the badges. Each moutain offers their own limited badges that must be purchased in person, hence serves as a memory keepsake for your conquest of that moutain range.
To continue deliver on the brand spirit, Yamasanka and CARRYin will be collabrating to produce a limited badge specially designed for Hong Kong's iconic moutain range – Lion Rock. For promoting moutaineering culture and encouraging everyone to get closer to the nature, participants will be allowed to purchase only after ascending the summit of Lion Rock.
Criteria for pin badge purchase:
pick your favorable picture of ascending to the summit of Lion Rock.
Then upload onto Instgram/ Facebook and hastage
#carryin_official #yamasanka #hkfashionwalk #hkmountainpin #lionrock
During your purchase, CARRYin will share your post to our Instagram story.
CARRYin @ Patterson Street, Causewaybay will be selling 600 Lion Rock pin badges in-store
Purchase limit: 1 pin badge per person
Purchase day: June 1 (Wed)